CONCERTS - PRESENTATIONS - SEMINARS

YOUR place?

... or ours
We offer, in our Congregation, Movie Nights and other Events to help people see and understand life in the Jewish community and the experience of Jewish people in the wider world of humanity.
We also offer in our Congregation OR AT YOUR LOCATION
Messianic Jewish Worship Concerts

&

Jewish Christmas Concerts

that use a unique blend of Jewish - Jesus music to celebrate the Messiah of Israel and Savior of The World - Yeshua - Jesus.


Presentations

(such as

Jesus in the Passover

)

Seminars

(such as

How to Share Yeshua with Jewish People

).

MORE INFO ON COMING TO YOUR LOCATION BELOW
Want OUR presentation at YOUR location?
Our Congregational Leader - Abraham E. Sandler has almost 40 years experience teaching how Old and New Testaments fit together to point to Yeshua - Jesus. Presentation topics are suitable for Sunday sermons, Bible Studies, as well as teaching series in Conferences and Bible Camps and Seminars.
In addition to Concerts ... Seminar Topics include:
JESUS IN THE PASSOVER

JESUS IN THE OLD TESTAMENT

JESUS IN THE FEASTS OF ISRAEL

JESUS IN THE NAMES OF GOD

THE ROLE OF JEW AND GENTILE IN GOD'S PLAN OF SALVATION FOR EVERYONE

JEWISH PEOPLE, GENTILES and JESUS IN THE LAST DAYS

HOW MESSIANIC JEWISH WORSHIP CAN HELP THE CHURCH

HOW MESSIANIC JEWISH LITURGICAL PRAYER CAN HELP THE CHURCH

HOW TO SHARE YESHUA - JESUS WITH JEWISH PEOPLE
MANY churches have asked our Congregational Leader Abraham E. Sandler to come to THEIR location and present -
- in a single event / service
- a weekend series of services and presentations
- to serve as Bible Teacher at Conferences and Bible Camps ( both Adult and Kid's Camps)
We have always come ON A LOVE-OFFERING BASIS to serve in single event/services.
Modest arrangements can be made for multi-day Conferences, Camps, etc.
Contact Us to invite Abraham to your location

Learn more about our other Gatherings -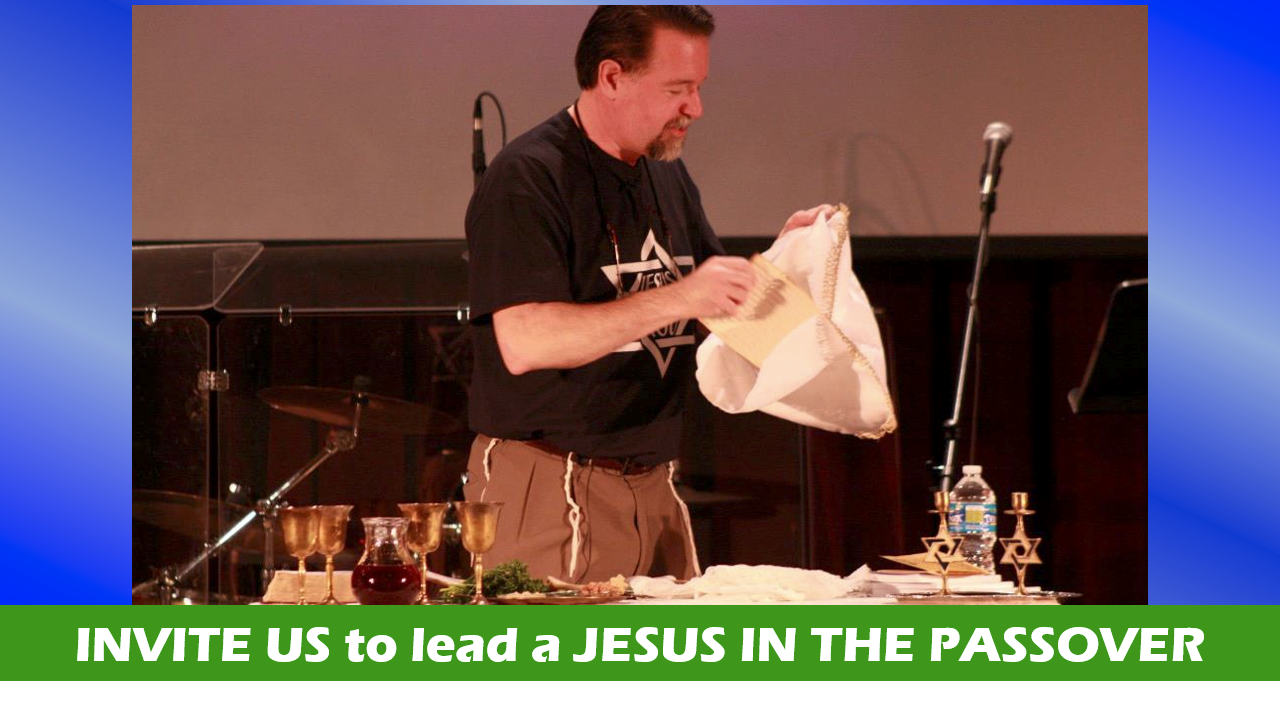 JESUS IN THE PASSOVER

available Sun am and others times throughout the week



at YOUR location!

Experience Passover traditions Yeshua - Jesus used to show the disciples who He Is and Why We Need Him.

Traditions, songs and prayers that date back centuries, some to even BEFORE the time of Yeshua - Jesus.


This isn't just Abraham talking - everybody PARTICIPATES - experience TASTES, ask QUESTIONS, sing in WORSHIP, look at YESHUA and RECEIVE what HE is offering from HIS TABLE.