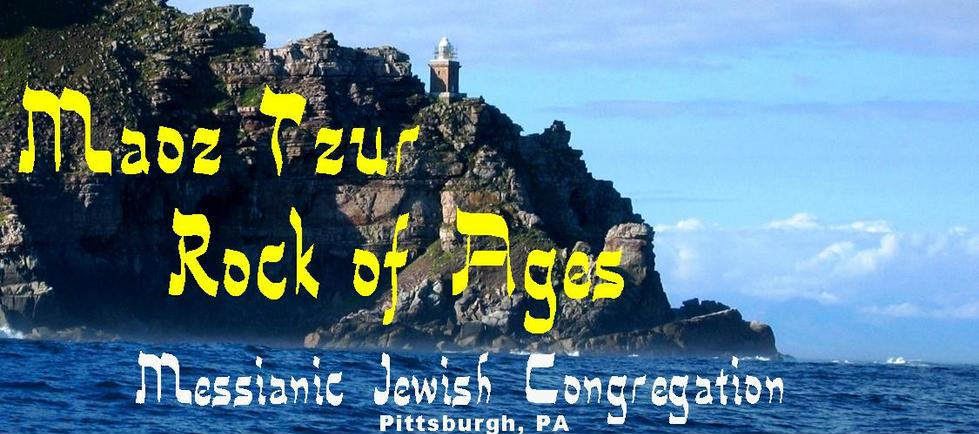 - PROCLAIM -
My
Abba
(Father)
my
El
(God),
and
Tzur
(Rock)

-
my
Yeshua
(Salvation)
- Psalms 89:26 -
Growing a community of followers of Yeshua, bringing Him to Jewish Pittsburgh and beyond !
© 2012 - Abraham E. Sandler,

Congregational Leader

of

Maoz Tzur

-

Rock of Ages

Messianic Jewish Congregation. All rights reserved.

PO Box 225 East McKeesport, PA 15035 - (412) 609-1117
GET TO KNOW MAOZ TZUR - ROCK OF AGES
Messianic Jewish Congregation

As a Messianic Jewish Congregation we are different (and yet have many similarities) to both Jewish and Christian worship experiences.
We are not too concerned with what others are like. Here is what God is telling us about what OUR mishpucha (family) should be like -
We are a

MESSIANIC

congregation.

We believe the Jewish Scriptures speak plainly and repeatedly of a specific Redeemer-Messiah Whom God would send to "take the punishment (Isaiah 53:8) we deserve for our sins." Yeshua (Jesus) is recorded to have fulfilled the many prophecies about this Jewish Messiah.
We are a congregation that Celebrates Yeshua as the Messiah of Israel and the Lord and Saviour of all mankind.


We are a

JEWISH

congregation.

There are both Jewish people and Gentiles in our congregation. That's exactly the same type of group that Moses led out of Egypt (see Ex. 12:38 - a "mixed" multitude - Jews and Gentiles, yet ALL of them were committed to following the God of Israel.) God put Jesus into the history and culture of the Jewish people and there is much to be learned from meeting Him there.
We are a congregation that Celebrates Yeshua in a Biblically Jewish way, bringing the Good News of Yeshua to Jewish people first, and also to Gentiles.


We are a CONGREGATION

.



God said he would make a group (nation) of blessed people from Abraham. God repeatedly said, "You shall be My people" (not "You shall be My individuals"). As a congregation, we help each other walk with Yeshua in a fruitful way … TOGETHER !

















We are a NEW

Congregation
Want to be part of something NEW God is doing in the Pittsburgh area? Most certainly we have our roots FIRMLY placed in the traditions and truth of God's unchanging Word - the Scriptures (Genesis to Revelation). But we are asking God, "How do we express Your Eternal Truth in ways so Your Message gets through to people in TODAY's world?" Come be part of His answer!
We are a congregation that expresses God's unchanging Truth and the best of Godly tradition - especially Jewish traditon - in ways

relevant to people today

.


We are a NEW

Congregation


Yes, I'm repeating myself because there is something else important about the fact we are

new

... Just like a new-born baby has many needs but is not quite able yet to take care of himself ... well ... we need some help, too.
Would you pray and ask God if He wants you to help grow this new congregation? Only a handful of Jewish people in the Greater Pittsburgh Area know Yeshua (Jesus) as their Messiah, Saviour and Lord. How many congregations should their be among a population of about 70,000? Certainly more than a handful ! There are too few of us - Jewish believers in Jesus - among the 70,000 Jewish people in the Greater Pittsburgh area to do this on our own... We need

your

help!

We are a congregation that has not yet reached perfection... we are a work in progress. We won't mind your "dust" if you don't mind ours while we are "under construction" and praying "Yeshua - come build a House for Your Glory and Israel's Salvation !"

If God is moving on your heart to help, please CLICK HERE to go to our "Want to Help" page. (There are four ways listed to help that do NOT involve money!)