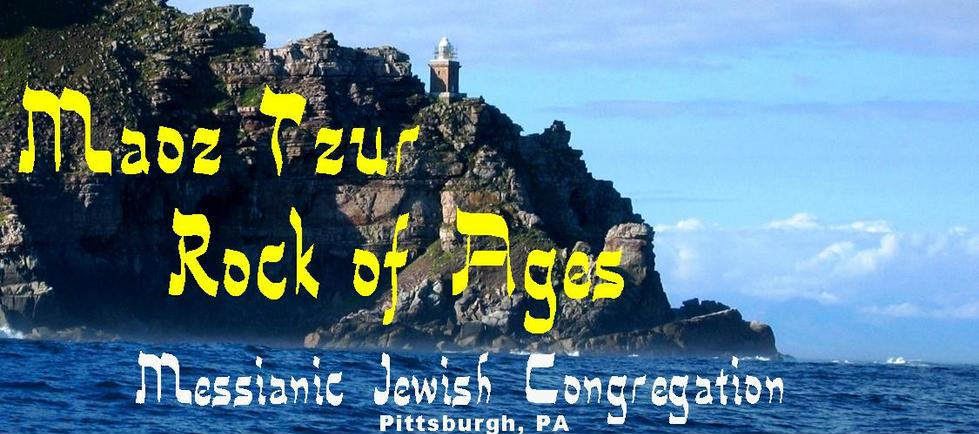 - PROCLAIM -
My
Abba
(Father)
my
El
(God),
and
Tzur
(Rock)

-
my
Yeshua
(Salvation)
- Psalms 89:26 -
Growing a community of followers of Yeshua, bringing Him to Jewish Pittsburgh and beyond !
© 2012 - 2013 Abraham E. Sandler,

Congregational Leader

of

Maoz Tzur

-

Rock of Ages

Messianic Jewish Congregation. All rights reserved.

PO Box 225 East McKeesport, PA 15035 - (412) 609-1117
Audio / Video of
Recent Gathering
Click

HERE



DONATION BUTTON STILL has issues, please pray !

SHARING YESHUA / JESUS with


OUR JEWISH FRIENDS & NEIGHBORS



The Good News of Yeshua is
- as a matter or priority -
for the Jewish people first,
as well as for
all the nations of the world.

- Romans 1:16 -
Do you know :
Yeshua/Jesus is spoken of BY NAME in the Jewish Scriptures (what Christians call the "Old Testament")


That EVERY point of the Good News (the Gospel) can be made from the Old Testament - Jewish Scriptures


That GENTILES are COMMISSIONED by God to bring the Good News of Yeshua/Jesus to the Jewish people


What the Jewish people think about God, The Bible, Atonement, etc.


How today's religion of the rabbis and the synagogue got started


Why Jewish people react they way they do to Christian evangelism



God's Role for Jew and Gentile in His Plan of Salvation for Everybody



Salvation - Yeshua - Jesus came from the Jewish people ... shouldn't the Good News of Yeshua/Jesus be clearly and strongly communicated to them?

Learn God's plan concerning the Jewish people, the Gentiles and the Good News of Yeshua/Jesus, and learn how YOU can play an important role in sharing Yeshua with God's Chosen people - the Jewish people.

JOIN US !!!


DATEs/TIMEs/LOCATIONS

Seminar consists of 2 sessions, 4 hours each, for a total of 8 hours of material.

Seminar is being offered in two locations -

-

Saturdays

- Jan 6 & 13 - 10am to 3pm - (

includes LUNCH

)
LOCATION - PITTSBURGH -

SOUTH

- NEAR "OLD" (COUNTY) AIRPORT
LINCOLN PLACE CHURCH OF THE NAZARENE
5604 Interboro Ave, Pittsburgh, PA 15207 map

-

Sundays

- Jan 7 & 14 - 2pm to 6pm (

light refreshments

)
LOCATION - PITTSBURGH -

NORTH

- NEAR WEXFORD
LIFEPOINTE CHRISTIAN AND MISSIONARY ALLIANCE CHURCH
2298 ROCHESTER RD, PITTSBURGH, PA 15237


REGISTRATION FEE:

- $25 (covers food and LOTS of "hand outs" to take home!)


- register online for Pgh -

South

- HERE

- register online for Pgh -

North

- HERE


... or mail $25 per person registering to:

- Rock of Ages MJC, PO Box 225 East McKeesport, PA 15035
MORE INFO:

- use CONTACT US page

(here)

or call 412-609-1117