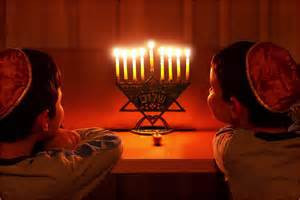 HANNUKAH - SAT DEC 1, 10:30am
EVERYONE WELCOME - Admission is FREE

What do you do when something NO GOOD FOR YOU rolls over your life like a tsunami ???
The Jewish People faced this exact crisis 165 years before Yeshua - Jesus.

Remember and celebrate how The God of Israel provided HIS ANSWER against overwhelming odds !

It you have a HANNUKAH menorah - bring it as join in our multi-Menorah lighting !!! (We will provide STANDARD-sized candles)
Potato (and other?) latkes (pancakes) and refreshments following celebration.
LOCATION

- Lincoln Place Ch of the Nazarene
5604 Interboro Ave, Pgh, PA 15207 map